Rainbows on Mull

Rainbows on Mull are not unusual. Due to the breezy conditions on Mull the weather can be a little more changeable than some other places in the world. Yes, it does rain and sometimes it can persist it down for days. We relish the rainy days, it gives us a chance to catch up with our reading, visit Browns to pick a nice malt whiskey to keep us amused, or spend a little more time sampling the 80′ in the Mishnish. With this in mind there are some board games and puzzles in the cupboard in the lounge and some books, but it would be wise to pack a waterproof and something to keep you entertained whilst exploring Mull is out of the question.
---
Restaurants in Tobermory
Fresh fish & chips cooked to order in Tobermory
The FISH & CHIP VAN on the Fishermans Pier in Tobermory is owned by Jeanette in partnership with her friend Jane.
The ladies use only the best fish which is supplied on a daily basis. One of their specialities is fresh king scallops ''seared'' to order while you wait. In fact everything on the menu is cooked to order and the wait of a few minutes is a small price to pay for such fresh quality food. Your freshly cooked meal can be devoured in a setting that is second to none, in the heart of Tobermory overlooking it's famous bay.
The Fisherman's Pier FISH & CHIP VAN was honoured with a prestigious "Les Routiers" award and, being the first establishment of its kind to be included, the European food bible had to create a category especially for it. The guide insists it does not include premises which are just fashionable, they have to be "chic" and "with the best food." If you think that's good read what Prince Charles thought.
The FISH & CHIP VAN attracts customers from all over the world, many arriving by yacht. It has a strong local clientèle as well as visitors from all over the UK. The van is open all year round so next time you're on Mull why not visit us for an "al fresco" meal on the seafront? Sorry but reservations cannot be taken for seating at the Clock Tower or on the lobster/prawn creels on the Pier !
---
Lambing season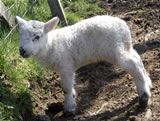 Lambing season is between April and June on Mull. This is a wonderous sight with thousands of gorgeous lambs prancing around without a care in the world. Extra care should be taken when driving around during this time. Also, try not to get too close to the lambs, the mothers are very protective and by getting too close you will put un-needed pressure on the mother.
---
Tobermory Golf Club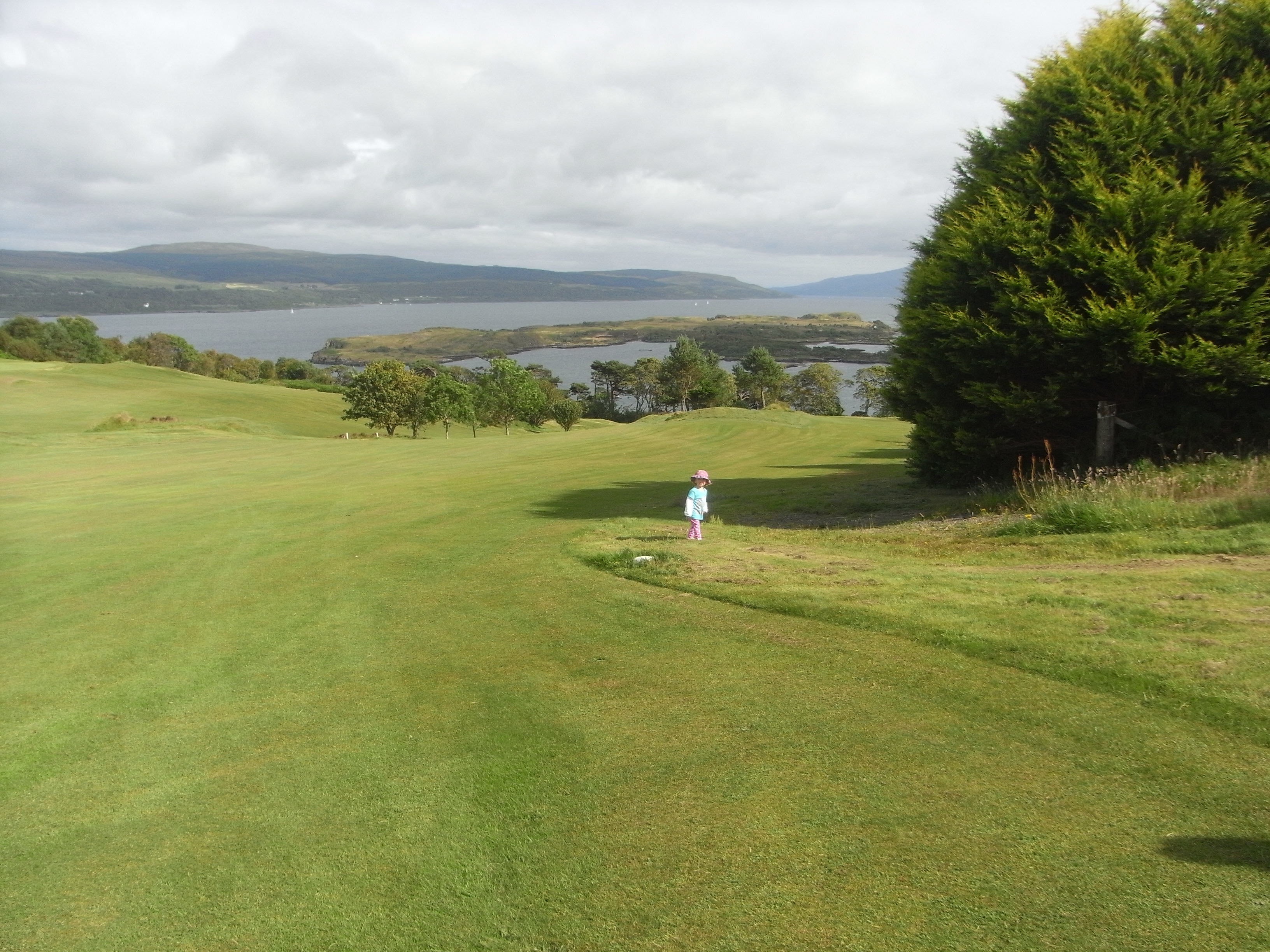 The Tobermory Golf Club is just a 10 minute walk from Tigh-na-acha, the Tobermory Golf Club is a challenging 9 hole course sculpted from the side of the hill rising behind Tobermory Harbour.
Don't let the fact that this is 9 holes put you off, this is a challenging course. the first hole presents you with a heather covered hill you must play over, only a marker showing you the direction of the hole. The course gets better, every hole is a new adventure. Situated high above Tobermory harbour the amazing views down the Sound of Mull, Morvern, Ardnamurchan and the mountains of the islands of Rum and Eigg
Voted "Best 9 hole golf course in Scotland" in The Scotsman 16/01/2008, some accolade indeed.
From the club website "Where man and nature conspired to create the perfect golf course. This 9 hole course is a gem set on the beautiful isle of Mull. Beware, the scenery can seriously affect your game."
One of the beauties, of a course like Tobermory, is that there is no booking system. The course is available for play just about any time. Green fees are £20 per day for adults. Visitors are always welcome.
See http://www.tobermorygolfclub.com/ for more details.
---
Fishing on Mull – Aros Loch
Located in the beautiful setting of Aros Park which you can see from Tigh-na-acha across the harbour. Access is either a 2k walk from Tobermory Harbour or by car from the Salen Road. Stocked with Rainbow Trout, this loch is well sheltered so a better place to be if the weather is wet / windy.
Full details and permits are available from Browns in Tobermory – 01688 302020.
---
Duart Castle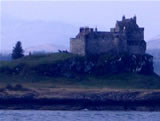 Duart Castle hails from around 1350 but has been built up since then and is still being renovated today. This imposing building has been used as a back drop for films such as When Eight Bells Toll starring Anthony Hopkins and Entrapment starring Sean Connery and Catherine Zeta-Jones. With a dungeon, state rooms and tales of piracy and sunken treasure there is enough to keep an inquisitive mind occupied for a full day. Take a pack lunch or enjoy local fare in the restaurant. Entrance is to the castle is £3.50 and there is no charge to walk around the grounds so it shouldn't break the bank.
---
Fishing on Mull – Mishnish Lochs
A 10 minute drive from Tigh-na-acha. Sitting above Tobermory on the Dervaig Road, these three connected lochs are stocked with 4″ Brown Trout every two years. We use size 10 Claret and 'Teal and Green' flies and have caught 4lb fish, but also hear that Butcher and Grouse work well in size 12 too. Fishing from the bank and from a boat is available.
The season is from 1st April through to the 31st September.
All details including permits and boat hire available from Browns in Tobermory – 01688 302020.
---
Iona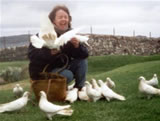 Iona is a lovely peaceful place and just seems more refined somehow than the rest of Mull. If you do manage to get to the Abbey and have some time, try to visit the rest of the Island. Iona is a stones throw off the South West corner of Mull and some say that it gets the very best of Mull's weather, probably when the wind is south westerly that is true. If you have time, strike out for the South and West coast where you will find yet more beaches and coves. Some say that from the West coast on a good day you can see Ireland, though we remain unconvinced.
---
Fishing on Mull – River Bellart
The 3 mile beat from Dervaig, past the Old Byrne until it emerges from the forest area is a lovely place to fish. The river meanders through peat flats and into the bay at Dervaig.
Use a spoon, fly or fresh worms to catch silver seatrout or salmon.
From £5 per day, all the information from Tackle and Books in Tobermory, 01688 302336 or info@tackleandbooks.co.uk
---
Fishing on Mull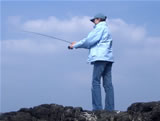 The Fishing on Mull is terrific. For most fishing you will need a permit, though you can just get your rod out and fish for bass and Pollock off the cliffs just past Calgary Bay (as Claire is doing here). For licenses and boats, head down to either Brown's or Tackle and Books on the Tobermory seafront for more information. Good options are to hire a boat and fish on the Mishnish Loch's for brown trout. Fish from the bank of Loch Frisa for brown & sea trout, plus salmon. Fish for Sea trout and Salmon in River Bellart or River Aros. Or get yourself a place on a boat for easy Mackerel or Pollock.
---