Otters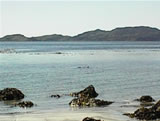 Otters normally keep well away from humans, but if you are lucky, and not too noisy you may see one of these playful creatures messing around in the seaweed – or like this one, basking in the sun. Ok, it's not a very good picture but that really is an Otter in the middle of the view. This was taken at Kilninian (Port an t-sruthain). We have seen Otters at Croig, Langamull (and Mink here), the cliffs just past Calgary, here at Kilninian and Croggan on the East coast. We imagine that they could be found anywhere on Mull which is quiet, remote and has seaweed cover.
---
The Lighthouse walk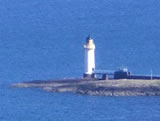 The Lighthouse Walk is a nice easy excursion from Tobermory Harbour. Head towards the Calmac ferry port and take the path heading up hill into the trees. You can just keep on this path for an hour or so, until you reach the lighthouse. On the way you should have fantastic views of Ardnamurchan. On the way back you could try walking back over the golf course for some lovely views down the Sound of Mull. Watch out for stray golf balls though.
---
Ben More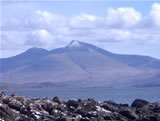 Ben More comes from the Gaelic, Big Hill, and they weren't kidding, standing 966m above sea level this is the tallest mountain on the island. Most of Mull was created when lava spewed out through faults around 60 million years ago. Climbing is possible and relatively easy on a good day. The reward is spectacular views over Mull and surrounding Islands, even as far as Ben Nevis, the tallest mountain in Britain. If you want to climb, set aside a full day and start early. Make sure the good weather will last. Start on the south side of Loch na Keal and don't rely on a compass because the magnetic rock rules out an accurate reading. We would seriously recommend spending more time getting aquainted with Ben More before attempting an ascent. Best of luck..
---
The roads on Mull
The roads on Mull are mostly single track with passing spaces so keep your wits about you. This road goes from Dervaig to Torloisk and is not well travelled as most tourists take the coast road past Calgary Bay. You may see grass growing down the middle of some roads. The waterfall and views over Ulva make this route worth taking once in a while. Getting used to driving on single track roads can take a while but just keep a note of where the last passing place was and slow down whilst going round blind corners. Once you have the hang of it the roads are a lot of fun, hence the Mull Rally which takes place on public roads over a weekend in October.
---
Lambing season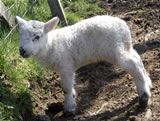 Lambing season is between April and June on Mull. This is a wonderous sight with thousands of gorgeous lambs prancing around without a care in the world. Extra care should be taken when driving around during this time. Also, try not to get too close to the lambs, the mothers are very protective and by getting too close you will put un-needed pressure on the mother.
---
Iona Abbey, Isle of Mull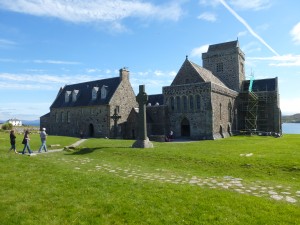 Iona Abbey was originally built in around 563AD from wood, wattle and daub by St Columba and his followers after they fled Ireland. Later in 1200AD the Columban Monastery was transformed into a Benedictine Abbey. The Abbey and grounds house one of the most comprehensive collections of Christian carved stones in Scotland.
Throughout the history of Iona, the isle, monastery were pillaged by viking invaders.
Walk around the beautifully kept Nunnery and Abbey cloisters. Visit the Abbey church itself and you can feel the history washing over you.
---
The Breeze on Mull
The breeze on Mull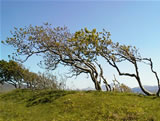 is in the main probably a bit stronger than most other places. Although most of the pictures you will see of Mull show lovely blue skies and relatively calm conditions, it is not always like this. Between Spring and October you should have mainly good weather, but like the weather anywhere in Britain there are no guarantees. Without all the buildings and trees there is less to break up the wind. So, be prepared and take wind cheaters and some warm, windproof clothes to be on the safe side.
---
Rainbows on Mull

Rainbows on Mull are not unusual. Due to the breezy conditions on Mull the weather can be a little more changeable than some other places in the world. Yes, it does rain and sometimes it can persist it down for days. We relish the rainy days, it gives us a chance to catch up with our reading, visit Browns to pick a nice malt whiskey to keep us amused, or spend a little more time sampling the 80′ in the Mishnish. With this in mind there are some board games and puzzles in the cupboard in the lounge and some books, but it would be wise to pack a waterproof and something to keep you entertained whilst exploring Mull is out of the question.
---
Fishing on Mull – Loch Frisa
Going a little further afield from Tobermory, about a 20 minute drive from Tigh-na-acha on the Dervaig Road. This loch is the largest and deepest freshwater loch on Mull being 8km by 800m and 60m deep. Brown Trout of 5lb+, Salmon average 6lb and Sea Trout 2lb can be taken from the loch and the River Aros which flows from Loch Frisa.
Permits from £4 per day available from Tackle & Books in Tobermory – 01688 302336 or info@tackleandbooks.co.uk
---
Sheep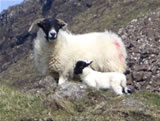 Sheep are another familiar sight, often found clinging to the mountainsides with gravity defying skill. Most are not penned, but allowed to roam wherever they choose. Be careful when driving, although most are well behaved you can never really tell what is going through their minds and they have been known to bolt. If you hit one it will cost you, both to refund the farmer and to fix your car, they will do significant damage. This lamb and its protective mother (we didn't get any closer) were photographed just round from Calgary Bay.
---