Calgary Bay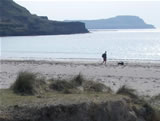 Calgary Bay is a popular sandy beach, around 40 minutes drive from Tobermory. Around half a mile wide with easy parking and easy access to the beach, it is a good place for all. Walk up the track on the right hand side of the bay to the granite pier for an alternative view of the bay.
Visit the tea rooms and art gallery for refreshments.
There is also a very enjoyable guided walk starting from the tea rooms which is great for kids and adults alike. Called the Art in Nature Sculpture trail, you are taken through the forest past some fantastic nature inspired sculptures, many integrated into the woodland itself.
---
Mull Rally
For 45 years the Mull Rally has roared around the roads of Mull over the 2nd weekend in October.
Sponsored by Tunnock's, the Mull Rally is a closed public road race using the exciting roads on the Isle of Mull.
Still only one of two in the UK, this event was the first to close the public roads for rallying over.
---
Iona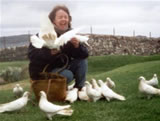 Iona is a lovely peaceful place and just seems more refined somehow than the rest of Mull. If you do manage to get to the Abbey and have some time, try to visit the rest of the Island. Iona is a stones throw off the South West corner of Mull and some say that it gets the very best of Mull's weather, probably when the wind is south westerly that is true. If you have time, strike out for the South and West coast where you will find yet more beaches and coves. Some say that from the West coast on a good day you can see Ireland, though we remain unconvinced.
---
Fishing on Mull – Aros Loch
Located in the beautiful setting of Aros Park which you can see from Tigh-na-acha across the harbour. Access is either a 2k walk from Tobermory Harbour or by car from the Salen Road. Stocked with Rainbow Trout, this loch is well sheltered so a better place to be if the weather is wet / windy.
Full details and permits are available from Browns in Tobermory – 01688 302020.
---
Duart Castle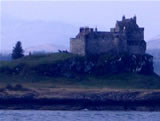 Duart Castle hails from around 1350 but has been built up since then and is still being renovated today. This imposing building has been used as a back drop for films such as When Eight Bells Toll starring Anthony Hopkins and Entrapment starring Sean Connery and Catherine Zeta-Jones. With a dungeon, state rooms and tales of piracy and sunken treasure there is enough to keep an inquisitive mind occupied for a full day. Take a pack lunch or enjoy local fare in the restaurant. Entrance is to the castle is £3.50 and there is no charge to walk around the grounds so it shouldn't break the bank.
---
Fishing on Mull – Mishnish Lochs
A 10 minute drive from Tigh-na-acha. Sitting above Tobermory on the Dervaig Road, these three connected lochs are stocked with 4″ Brown Trout every two years. We use size 10 Claret and 'Teal and Green' flies and have caught 4lb fish, but also hear that Butcher and Grouse work well in size 12 too. Fishing from the bank and from a boat is available.
The season is from 1st April through to the 31st September.
All details including permits and boat hire available from Browns in Tobermory – 01688 302020.
---
Sheep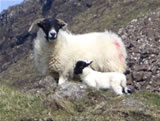 Sheep are another familiar sight, often found clinging to the mountainsides with gravity defying skill. Most are not penned, but allowed to roam wherever they choose. Be careful when driving, although most are well behaved you can never really tell what is going through their minds and they have been known to bolt. If you hit one it will cost you, both to refund the farmer and to fix your car, they will do significant damage. This lamb and its protective mother (we didn't get any closer) were photographed just round from Calgary Bay.
---
Ruined Houses – Clearances
Ruined H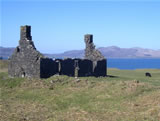 ouses are another sight you will find dotted all over Mull, some seemingly on their own, but many in small communities, probably crofters using the land to generate income. The main reason for these buildings being left was down to the Highland Clearances which took place between 1770 and 1850. This was a cruel time and the landowners realising that they could make more money by leasing their land to a single sheep farmer simply kicked people out of their houses, normally with significant force. The strange ash that fell over the highlands in 1846 caused the potato famine which was the nail in the coffin for many people quite literally. During this time tens of thousands of people in the Western Isles were displaced, died or emigrated to America, Canada and even as far away as Australia. This ruin is just north of Tobermory overlooking Bloody Bay.
---
Sandy Coves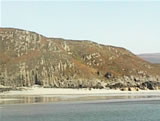 Sandy Coves can be found all around the coast of Mull, these are normally very secluded. This is one of the reasons we love Mull so much. You can make a picnic lunch, go out for the day, find a lovely sandy beach and not see anyone else. Some of our favourite places in the North of Mull are past Croig (Port na Ba), Langamull (Port Langamull), Kilninian (Port an t-sruthain). Then on the South coast between Ardalanish and the now deserted township of Shiaba there are many caves and sandy coves, like this one at Uisken.
---
Tobermory Golf Club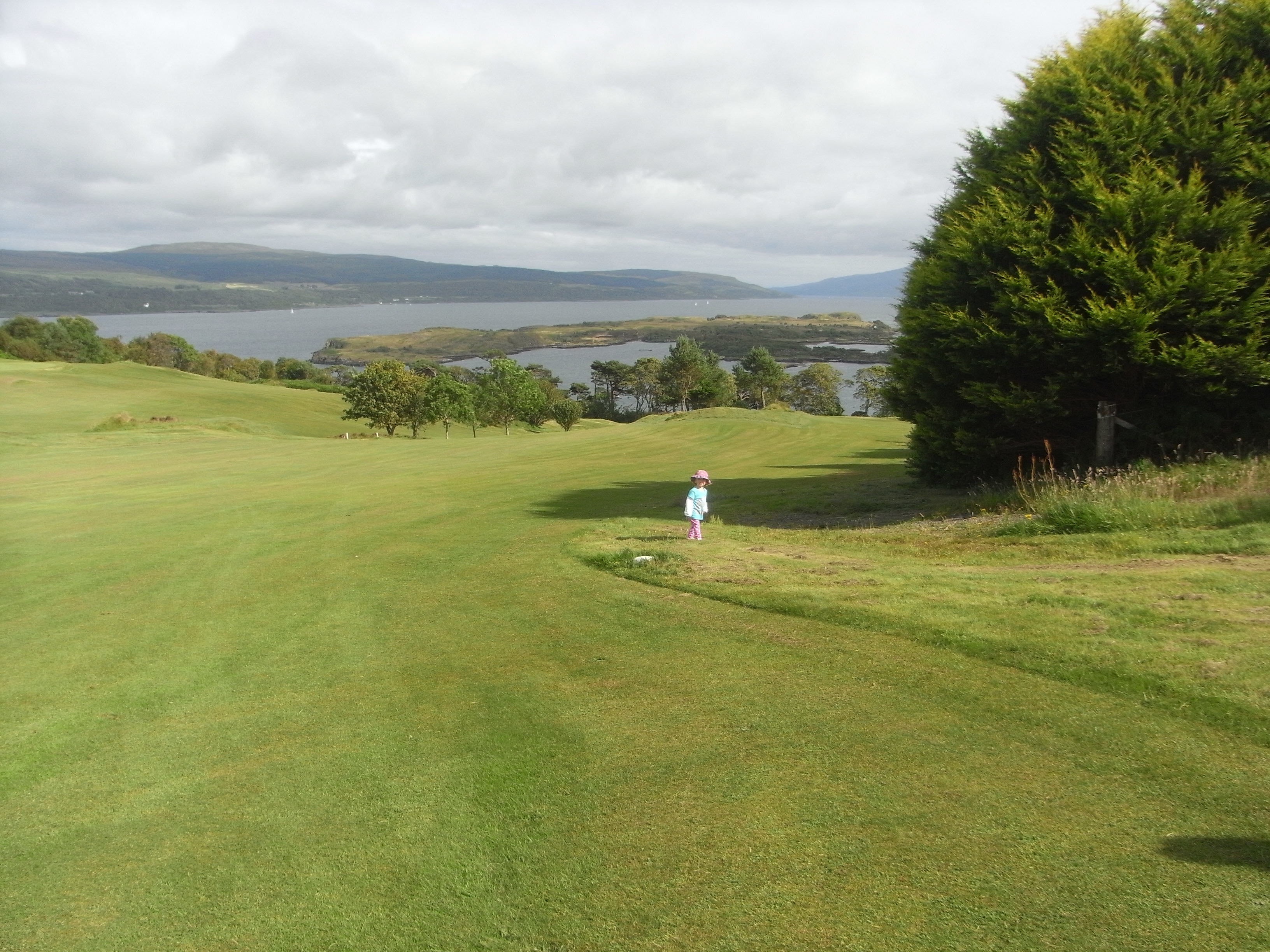 The Tobermory Golf Club is just a 10 minute walk from Tigh-na-acha, the Tobermory Golf Club is a challenging 9 hole course sculpted from the side of the hill rising behind Tobermory Harbour.
Don't let the fact that this is 9 holes put you off, this is a challenging course. the first hole presents you with a heather covered hill you must play over, only a marker showing you the direction of the hole. The course gets better, every hole is a new adventure. Situated high above Tobermory harbour the amazing views down the Sound of Mull, Morvern, Ardnamurchan and the mountains of the islands of Rum and Eigg
Voted "Best 9 hole golf course in Scotland" in The Scotsman 16/01/2008, some accolade indeed.
From the club website "Where man and nature conspired to create the perfect golf course. This 9 hole course is a gem set on the beautiful isle of Mull. Beware, the scenery can seriously affect your game."
One of the beauties, of a course like Tobermory, is that there is no booking system. The course is available for play just about any time. Green fees are £20 per day for adults. Visitors are always welcome.
See http://www.tobermorygolfclub.com/ for more details.
---