Calgary Bay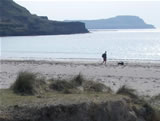 Calgary Bay is a popular sandy beach, around 40 minutes drive from Tobermory. Around half a mile wide with easy parking and easy access to the beach, it is a good place for all. Walk up the track on the right hand side of the bay to the granite pier for an alternative view of the bay.
Visit the tea rooms and art gallery for refreshments.
There is also a very enjoyable guided walk starting from the tea rooms which is great for kids and adults alike. Called the Art in Nature Sculpture trail, you are taken through the forest past some fantastic nature inspired sculptures, many integrated into the woodland itself.
---
Iona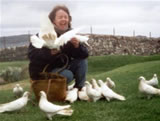 Iona is a lovely peaceful place and just seems more refined somehow than the rest of Mull. If you do manage to get to the Abbey and have some time, try to visit the rest of the Island. Iona is a stones throw off the South West corner of Mull and some say that it gets the very best of Mull's weather, probably when the wind is south westerly that is true. If you have time, strike out for the South and West coast where you will find yet more beaches and coves. Some say that from the West coast on a good day you can see Ireland, though we remain unconvinced.
---
The Breeze on Mull
The breeze on Mull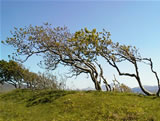 is in the main probably a bit stronger than most other places. Although most of the pictures you will see of Mull show lovely blue skies and relatively calm conditions, it is not always like this. Between Spring and October you should have mainly good weather, but like the weather anywhere in Britain there are no guarantees. Without all the buildings and trees there is less to break up the wind. So, be prepared and take wind cheaters and some warm, windproof clothes to be on the safe side.
---
Boats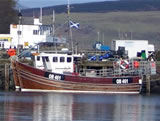 Boats and other sea-going vessels that moor in Tobermory harbour are just as colourful and interesting as the shops, houses and inns that give the front it's identity. All kinds of vessel can be seen in the harbour. The CalMac passenger ferry can be seen chugging up and down the sound of Mull on its long journey to Barra. Moored in the bay you will see two and three mast Schooners, Luxury yachts, the odd Ketch and most other type of boat you can think of. If you frequent the bars along the sea front you will no doubt pick up on many discussions of a nautical nature.
---
Otters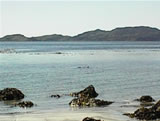 Otters normally keep well away from humans, but if you are lucky, and not too noisy you may see one of these playful creatures messing around in the seaweed – or like this one, basking in the sun. Ok, it's not a very good picture but that really is an Otter in the middle of the view. This was taken at Kilninian (Port an t-sruthain). We have seen Otters at Croig, Langamull (and Mink here), the cliffs just past Calgary, here at Kilninian and Croggan on the East coast. We imagine that they could be found anywhere on Mull which is quiet, remote and has seaweed cover.
---
Lambing season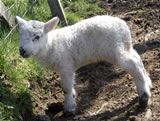 Lambing season is between April and June on Mull. This is a wonderous sight with thousands of gorgeous lambs prancing around without a care in the world. Extra care should be taken when driving around during this time. Also, try not to get too close to the lambs, the mothers are very protective and by getting too close you will put un-needed pressure on the mother.
---
Rainbows on Mull

Rainbows on Mull are not unusual. Due to the breezy conditions on Mull the weather can be a little more changeable than some other places in the world. Yes, it does rain and sometimes it can persist it down for days. We relish the rainy days, it gives us a chance to catch up with our reading, visit Browns to pick a nice malt whiskey to keep us amused, or spend a little more time sampling the 80′ in the Mishnish. With this in mind there are some board games and puzzles in the cupboard in the lounge and some books, but it would be wise to pack a waterproof and something to keep you entertained whilst exploring Mull is out of the question.
---
Ben More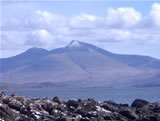 Ben More comes from the Gaelic, Big Hill, and they weren't kidding, standing 966m above sea level this is the tallest mountain on the island. Most of Mull was created when lava spewed out through faults around 60 million years ago. Climbing is possible and relatively easy on a good day. The reward is spectacular views over Mull and surrounding Islands, even as far as Ben Nevis, the tallest mountain in Britain. If you want to climb, set aside a full day and start early. Make sure the good weather will last. Start on the south side of Loch na Keal and don't rely on a compass because the magnetic rock rules out an accurate reading. We would seriously recommend spending more time getting aquainted with Ben More before attempting an ascent. Best of luck..
---
Restaurants in Tobermory
Fresh fish & chips cooked to order in Tobermory
The FISH & CHIP VAN on the Fishermans Pier in Tobermory is owned by Jeanette in partnership with her friend Jane.
The ladies use only the best fish which is supplied on a daily basis. One of their specialities is fresh king scallops ''seared'' to order while you wait. In fact everything on the menu is cooked to order and the wait of a few minutes is a small price to pay for such fresh quality food. Your freshly cooked meal can be devoured in a setting that is second to none, in the heart of Tobermory overlooking it's famous bay.
The Fisherman's Pier FISH & CHIP VAN was honoured with a prestigious "Les Routiers" award and, being the first establishment of its kind to be included, the European food bible had to create a category especially for it. The guide insists it does not include premises which are just fashionable, they have to be "chic" and "with the best food." If you think that's good read what Prince Charles thought.
The FISH & CHIP VAN attracts customers from all over the world, many arriving by yacht. It has a strong local clientèle as well as visitors from all over the UK. The van is open all year round so next time you're on Mull why not visit us for an "al fresco" meal on the seafront? Sorry but reservations cannot be taken for seating at the Clock Tower or on the lobster/prawn creels on the Pier !
---
Tobermory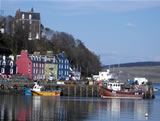 Tobermory is the capital of Mull, it was built around a natural harbour protecting the many boats from the rough weather. Often filled with moored pleasure boats and working fishing boats, the main pier is also a CalMac ferry port where you can get excursions to other parts of Mull and the surrounding area. The range of shops should cater for all needs, including clothes, toys, books, fishing tackle, restaurants and cafe's, locally made jewellery, pottery, locally painted pictures and supermarket.
---