Iona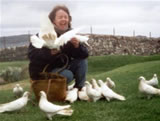 Iona is a lovely peaceful place and just seems more refined somehow than the rest of Mull. If you do manage to get to the Abbey and have some time, try to visit the rest of the Island. Iona is a stones throw off the South West corner of Mull and some say that it gets the very best of Mull's weather, probably when the wind is south westerly that is true. If you have time, strike out for the South and West coast where you will find yet more beaches and coves. Some say that from the West coast on a good day you can see Ireland, though we remain unconvinced.
---
Ben More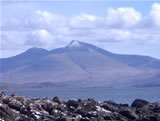 Ben More comes from the Gaelic, Big Hill, and they weren't kidding, standing 966m above sea level this is the tallest mountain on the island. Most of Mull was created when lava spewed out through faults around 60 million years ago. Climbing is possible and relatively easy on a good day. The reward is spectacular views over Mull and surrounding Islands, even as far as Ben Nevis, the tallest mountain in Britain. If you want to climb, set aside a full day and start early. Make sure the good weather will last. Start on the south side of Loch na Keal and don't rely on a compass because the magnetic rock rules out an accurate reading. We would seriously recommend spending more time getting aquainted with Ben More before attempting an ascent. Best of luck..
---
Sandy Coves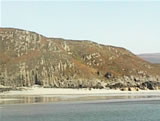 Sandy Coves can be found all around the coast of Mull, these are normally very secluded. This is one of the reasons we love Mull so much. You can make a picnic lunch, go out for the day, find a lovely sandy beach and not see anyone else. Some of our favourite places in the North of Mull are past Croig (Port na Ba), Langamull (Port Langamull), Kilninian (Port an t-sruthain). Then on the South coast between Ardalanish and the now deserted township of Shiaba there are many caves and sandy coves, like this one at Uisken.
---
Fishing on Mull – Sea fishing
The waters around Mull have yielded a number of record catches from a boat. common skate, plaice, grey, streaked and red gurnard, scale rayed wrasse, angler fish and turbot are all in the record books. Tackle and Books have a sea fishing boat trip for the whole family. You may see any of the following in the Mull waters; mackerel, giant skate, pollock, codling, flatfish, tope, spurdog, rays, coalfish, conger eels and flatfish.
Some of the coastline of Mull is inaccessible due to staggering cliffs making shore access hard. However you will still find under-fished marks to set up and pull amazing fish out of the water.
The sea lochs and estuaries will produce sea trout from late April onwards along with grey mullet and flounders.
Rocky marks will turn up dogfish, wrasse and conger eals with fresh bait like mackerel. With a spinner you should attract mackerel, pollock and coalfish.
The sand of Calgary bay, neighbouring Langamull and the other white sand beaches in the South (Ross) of Mull and Iona will produce rays, flatfish and codling.
Best time of year for sea fishing on Mull is June to November. Sea fishing around Mull is free, no permit or license is required.
---
Fishing on Mull – River Bellart
The 3 mile beat from Dervaig, past the Old Byrne until it emerges from the forest area is a lovely place to fish. The river meanders through peat flats and into the bay at Dervaig.
Use a spoon, fly or fresh worms to catch silver seatrout or salmon.
From £5 per day, all the information from Tackle and Books in Tobermory, 01688 302336 or info@tackleandbooks.co.uk
---
Sheep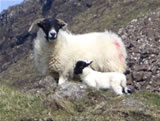 Sheep are another familiar sight, often found clinging to the mountainsides with gravity defying skill. Most are not penned, but allowed to roam wherever they choose. Be careful when driving, although most are well behaved you can never really tell what is going through their minds and they have been known to bolt. If you hit one it will cost you, both to refund the farmer and to fix your car, they will do significant damage. This lamb and its protective mother (we didn't get any closer) were photographed just round from Calgary Bay.
---
Fishing on Mull – Mishnish Lochs
A 10 minute drive from Tigh-na-acha. Sitting above Tobermory on the Dervaig Road, these three connected lochs are stocked with 4″ Brown Trout every two years. We use size 10 Claret and 'Teal and Green' flies and have caught 4lb fish, but also hear that Butcher and Grouse work well in size 12 too. Fishing from the bank and from a boat is available.
The season is from 1st April through to the 31st September.
All details including permits and boat hire available from Browns in Tobermory – 01688 302020.
---
Lambing season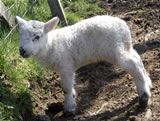 Lambing season is between April and June on Mull. This is a wonderous sight with thousands of gorgeous lambs prancing around without a care in the world. Extra care should be taken when driving around during this time. Also, try not to get too close to the lambs, the mothers are very protective and by getting too close you will put un-needed pressure on the mother.
---
Highland Cattle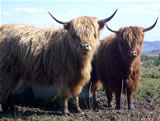 Highland Cattle you don't see every day. You will find these wonderful looking creatures dotted around the island. Sometimes fenced in, but don't be surprised if you find some sitting on the road. These shaggy beasts look very ferocious with their enormous horns, but a quick look at their eyes peeping out from under their shaggy fringe will tell you all you need to know. They are one of Britain's oldest breeds and love the craggy mountainous terrain that Mull provides. These two were just outside "Wings Over Mull", the birds of prey centre near Craignure.
---
Fishing on Mull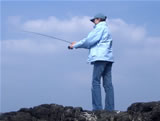 The Fishing on Mull is terrific. For most fishing you will need a permit, though you can just get your rod out and fish for bass and Pollock off the cliffs just past Calgary Bay (as Claire is doing here). For licenses and boats, head down to either Brown's or Tackle and Books on the Tobermory seafront for more information. Good options are to hire a boat and fish on the Mishnish Loch's for brown trout. Fish from the bank of Loch Frisa for brown & sea trout, plus salmon. Fish for Sea trout and Salmon in River Bellart or River Aros. Or get yourself a place on a boat for easy Mackerel or Pollock.
---