Fishing on Mull – Aros Loch
Located in the beautiful setting of Aros Park which you can see from Tigh-na-acha across the harbour. Access is either a 2k walk from Tobermory Harbour or by car from the Salen Road. Stocked with Rainbow Trout, this loch is well sheltered so a better place to be if the weather is wet / windy.
Full details and permits are available from Browns in Tobermory – 01688 302020.
---
Fishing on Mull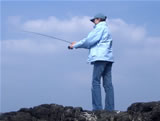 The Fishing on Mull is terrific. For most fishing you will need a permit, though you can just get your rod out and fish for bass and Pollock off the cliffs just past Calgary Bay (as Claire is doing here). For licenses and boats, head down to either Brown's or Tackle and Books on the Tobermory seafront for more information. Good options are to hire a boat and fish on the Mishnish Loch's for brown trout. Fish from the bank of Loch Frisa for brown & sea trout, plus salmon. Fish for Sea trout and Salmon in River Bellart or River Aros. Or get yourself a place on a boat for easy Mackerel or Pollock.
---
Otters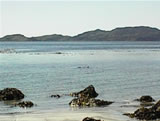 Otters normally keep well away from humans, but if you are lucky, and not too noisy you may see one of these playful creatures messing around in the seaweed – or like this one, basking in the sun. Ok, it's not a very good picture but that really is an Otter in the middle of the view. This was taken at Kilninian (Port an t-sruthain). We have seen Otters at Croig, Langamull (and Mink here), the cliffs just past Calgary, here at Kilninian and Croggan on the East coast. We imagine that they could be found anywhere on Mull which is quiet, remote and has seaweed cover.
---
Ben More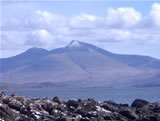 Ben More comes from the Gaelic, Big Hill, and they weren't kidding, standing 966m above sea level this is the tallest mountain on the island. Most of Mull was created when lava spewed out through faults around 60 million years ago. Climbing is possible and relatively easy on a good day. The reward is spectacular views over Mull and surrounding Islands, even as far as Ben Nevis, the tallest mountain in Britain. If you want to climb, set aside a full day and start early. Make sure the good weather will last. Start on the south side of Loch na Keal and don't rely on a compass because the magnetic rock rules out an accurate reading. We would seriously recommend spending more time getting aquainted with Ben More before attempting an ascent. Best of luck..
---
The Western Isles Hotel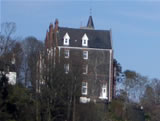 The Western Isles Hotel is a great place to go after a day exploring the Island. We love to take a stroll down the hill, stopping off for a couple at the Western Isles where the atmosphere is relaxing and the views from the Conservatory Bar over the harbour stunning. When ready, keep on down the hill turn left at the bottom and pop into the Mishnish where there is live folk music most nights of the week. Perhaps finish the evening off with a meal Upstairs, or in one of the many excellent restaurants along the sea front.
---
Fishing on Mull – Sea fishing
The waters around Mull have yielded a number of record catches from a boat. common skate, plaice, grey, streaked and red gurnard, scale rayed wrasse, angler fish and turbot are all in the record books. Tackle and Books have a sea fishing boat trip for the whole family. You may see any of the following in the Mull waters; mackerel, giant skate, pollock, codling, flatfish, tope, spurdog, rays, coalfish, conger eels and flatfish.
Some of the coastline of Mull is inaccessible due to staggering cliffs making shore access hard. However you will still find under-fished marks to set up and pull amazing fish out of the water.
The sea lochs and estuaries will produce sea trout from late April onwards along with grey mullet and flounders.
Rocky marks will turn up dogfish, wrasse and conger eals with fresh bait like mackerel. With a spinner you should attract mackerel, pollock and coalfish.
The sand of Calgary bay, neighbouring Langamull and the other white sand beaches in the South (Ross) of Mull and Iona will produce rays, flatfish and codling.
Best time of year for sea fishing on Mull is June to November. Sea fishing around Mull is free, no permit or license is required.
---
Iona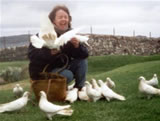 Iona is a lovely peaceful place and just seems more refined somehow than the rest of Mull. If you do manage to get to the Abbey and have some time, try to visit the rest of the Island. Iona is a stones throw off the South West corner of Mull and some say that it gets the very best of Mull's weather, probably when the wind is south westerly that is true. If you have time, strike out for the South and West coast where you will find yet more beaches and coves. Some say that from the West coast on a good day you can see Ireland, though we remain unconvinced.
---
Sandy Coves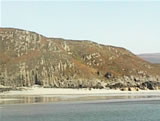 Sandy Coves can be found all around the coast of Mull, these are normally very secluded. This is one of the reasons we love Mull so much. You can make a picnic lunch, go out for the day, find a lovely sandy beach and not see anyone else. Some of our favourite places in the North of Mull are past Croig (Port na Ba), Langamull (Port Langamull), Kilninian (Port an t-sruthain). Then on the South coast between Ardalanish and the now deserted township of Shiaba there are many caves and sandy coves, like this one at Uisken.
---
Lambing season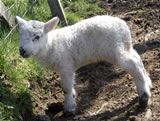 Lambing season is between April and June on Mull. This is a wonderous sight with thousands of gorgeous lambs prancing around without a care in the world. Extra care should be taken when driving around during this time. Also, try not to get too close to the lambs, the mothers are very protective and by getting too close you will put un-needed pressure on the mother.
---
Tobermory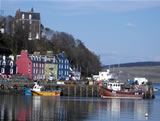 Tobermory is the capital of Mull, it was built around a natural harbour protecting the many boats from the rough weather. Often filled with moored pleasure boats and working fishing boats, the main pier is also a CalMac ferry port where you can get excursions to other parts of Mull and the surrounding area. The range of shops should cater for all needs, including clothes, toys, books, fishing tackle, restaurants and cafe's, locally made jewellery, pottery, locally painted pictures and supermarket.
---