Ruined Houses – Clearances
Ruined H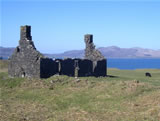 ouses are another sight you will find dotted all over Mull, some seemingly on their own, but many in small communities, probably crofters using the land to generate income. The main reason for these buildings being left was down to the Highland Clearances which took place between 1770 and 1850. This was a cruel time and the landowners realising that they could make more money by leasing their land to a single sheep farmer simply kicked people out of their houses, normally with significant force. The strange ash that fell over the highlands in 1846 caused the potato famine which was the nail in the coffin for many people quite literally. During this time tens of thousands of people in the Western Isles were displaced, died or emigrated to America, Canada and even as far away as Australia. This ruin is just north of Tobermory overlooking Bloody Bay.
---
Calgary Bay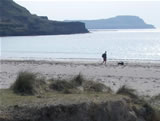 Calgary Bay is a popular sandy beach, around 40 minutes drive from Tobermory. Around half a mile wide with easy parking and easy access to the beach, it is a good place for all. Walk up the track on the right hand side of the bay to the granite pier for an alternative view of the bay.
Visit the tea rooms and art gallery for refreshments.
There is also a very enjoyable guided walk starting from the tea rooms which is great for kids and adults alike. Called the Art in Nature Sculpture trail, you are taken through the forest past some fantastic nature inspired sculptures, many integrated into the woodland itself.
---
Subsidised Travel to Mull for All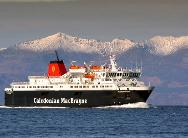 The Scottish government are subsidising travel to Mull with their RET scheme.
The cost of travel for islanders to the mainland was getting out of hand and also affecting the tourism trade, making people holidaying think twice. The RET scheme subsidises everyone's ferry fares drastically. By our estimate the discount is around 60% for foot passengers and vehicles, which you will hopefully agree is pretty significant. The best thing is you don't have to jump through any hoops to take advantage of this, the travel prices on the CalMac site already include the RET subsidy.
Check the Mull fares on https://www.calmac.co.uk/ret/about, with Oban / Craignure probably being the route most visitors to Tigh-na-acha will want to take.
Thank to the Scottish government for this gesture, it has made everyone on the islands a bit happier, though consider booking your ferry a bit earlier than normal because they may be a bit busier.
---
Mull Rally
For 45 years the Mull Rally has roared around the roads of Mull over the 2nd weekend in October.
Sponsored by Tunnock's, the Mull Rally is a closed public road race using the exciting roads on the Isle of Mull.
Still only one of two in the UK, this event was the first to close the public roads for rallying over.
---
Rainbows on Mull

Rainbows on Mull are not unusual. Due to the breezy conditions on Mull the weather can be a little more changeable than some other places in the world. Yes, it does rain and sometimes it can persist it down for days. We relish the rainy days, it gives us a chance to catch up with our reading, visit Browns to pick a nice malt whiskey to keep us amused, or spend a little more time sampling the 80′ in the Mishnish. With this in mind there are some board games and puzzles in the cupboard in the lounge and some books, but it would be wise to pack a waterproof and something to keep you entertained whilst exploring Mull is out of the question.
---
Fishing on Mull – River Bellart
The 3 mile beat from Dervaig, past the Old Byrne until it emerges from the forest area is a lovely place to fish. The river meanders through peat flats and into the bay at Dervaig.
Use a spoon, fly or fresh worms to catch silver seatrout or salmon.
From £5 per day, all the information from Tackle and Books in Tobermory, 01688 302336 or info@tackleandbooks.co.uk
---
Fishing on Mull – Aros Loch
Located in the beautiful setting of Aros Park which you can see from Tigh-na-acha across the harbour. Access is either a 2k walk from Tobermory Harbour or by car from the Salen Road. Stocked with Rainbow Trout, this loch is well sheltered so a better place to be if the weather is wet / windy.
Full details and permits are available from Browns in Tobermory – 01688 302020.
---
Fishing on Mull – Loch Frisa
Going a little further afield from Tobermory, about a 20 minute drive from Tigh-na-acha on the Dervaig Road. This loch is the largest and deepest freshwater loch on Mull being 8km by 800m and 60m deep. Brown Trout of 5lb+, Salmon average 6lb and Sea Trout 2lb can be taken from the loch and the River Aros which flows from Loch Frisa.
Permits from £4 per day available from Tackle & Books in Tobermory – 01688 302336 or info@tackleandbooks.co.uk
---
Sandy Coves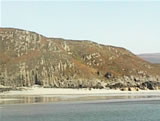 Sandy Coves can be found all around the coast of Mull, these are normally very secluded. This is one of the reasons we love Mull so much. You can make a picnic lunch, go out for the day, find a lovely sandy beach and not see anyone else. Some of our favourite places in the North of Mull are past Croig (Port na Ba), Langamull (Port Langamull), Kilninian (Port an t-sruthain). Then on the South coast between Ardalanish and the now deserted township of Shiaba there are many caves and sandy coves, like this one at Uisken.
---
Otters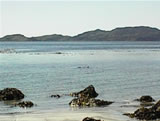 Otters normally keep well away from humans, but if you are lucky, and not too noisy you may see one of these playful creatures messing around in the seaweed – or like this one, basking in the sun. Ok, it's not a very good picture but that really is an Otter in the middle of the view. This was taken at Kilninian (Port an t-sruthain). We have seen Otters at Croig, Langamull (and Mink here), the cliffs just past Calgary, here at Kilninian and Croggan on the East coast. We imagine that they could be found anywhere on Mull which is quiet, remote and has seaweed cover.
---