Otters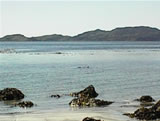 Otters normally keep well away from humans, but if you are lucky, and not too noisy you may see one of these playful creatures messing around in the seaweed – or like this one, basking in the sun. Ok, it's not a very good picture but that really is an Otter in the middle of the view. This was taken at Kilninian (Port an t-sruthain). We have seen Otters at Croig, Langamull (and Mink here), the cliffs just past Calgary, here at Kilninian and Croggan on the East coast. We imagine that they could be found anywhere on Mull which is quiet, remote and has seaweed cover.
---
Lambing season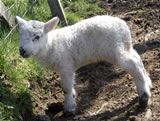 Lambing season is between April and June on Mull. This is a wonderous sight with thousands of gorgeous lambs prancing around without a care in the world. Extra care should be taken when driving around during this time. Also, try not to get too close to the lambs, the mothers are very protective and by getting too close you will put un-needed pressure on the mother.
---
Rainbows on Mull

Rainbows on Mull are not unusual. Due to the breezy conditions on Mull the weather can be a little more changeable than some other places in the world. Yes, it does rain and sometimes it can persist it down for days. We relish the rainy days, it gives us a chance to catch up with our reading, visit Browns to pick a nice malt whiskey to keep us amused, or spend a little more time sampling the 80′ in the Mishnish. With this in mind there are some board games and puzzles in the cupboard in the lounge and some books, but it would be wise to pack a waterproof and something to keep you entertained whilst exploring Mull is out of the question.
---
Fishing on Mull – Sea fishing
The waters around Mull have yielded a number of record catches from a boat. common skate, plaice, grey, streaked and red gurnard, scale rayed wrasse, angler fish and turbot are all in the record books. Tackle and Books have a sea fishing boat trip for the whole family. You may see any of the following in the Mull waters; mackerel, giant skate, pollock, codling, flatfish, tope, spurdog, rays, coalfish, conger eels and flatfish.
Some of the coastline of Mull is inaccessible due to staggering cliffs making shore access hard. However you will still find under-fished marks to set up and pull amazing fish out of the water.
The sea lochs and estuaries will produce sea trout from late April onwards along with grey mullet and flounders.
Rocky marks will turn up dogfish, wrasse and conger eals with fresh bait like mackerel. With a spinner you should attract mackerel, pollock and coalfish.
The sand of Calgary bay, neighbouring Langamull and the other white sand beaches in the South (Ross) of Mull and Iona will produce rays, flatfish and codling.
Best time of year for sea fishing on Mull is June to November. Sea fishing around Mull is free, no permit or license is required.
---
Restaurants in Tobermory
Fresh fish & chips cooked to order in Tobermory
The FISH & CHIP VAN on the Fishermans Pier in Tobermory is owned by Jeanette in partnership with her friend Jane.
The ladies use only the best fish which is supplied on a daily basis. One of their specialities is fresh king scallops ''seared'' to order while you wait. In fact everything on the menu is cooked to order and the wait of a few minutes is a small price to pay for such fresh quality food. Your freshly cooked meal can be devoured in a setting that is second to none, in the heart of Tobermory overlooking it's famous bay.
The Fisherman's Pier FISH & CHIP VAN was honoured with a prestigious "Les Routiers" award and, being the first establishment of its kind to be included, the European food bible had to create a category especially for it. The guide insists it does not include premises which are just fashionable, they have to be "chic" and "with the best food." If you think that's good read what Prince Charles thought.
The FISH & CHIP VAN attracts customers from all over the world, many arriving by yacht. It has a strong local clientèle as well as visitors from all over the UK. The van is open all year round so next time you're on Mull why not visit us for an "al fresco" meal on the seafront? Sorry but reservations cannot be taken for seating at the Clock Tower or on the lobster/prawn creels on the Pier !
---
Iona Abbey, Isle of Mull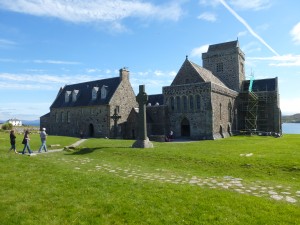 Iona Abbey was originally built in around 563AD from wood, wattle and daub by St Columba and his followers after they fled Ireland. Later in 1200AD the Columban Monastery was transformed into a Benedictine Abbey. The Abbey and grounds house one of the most comprehensive collections of Christian carved stones in Scotland.
Throughout the history of Iona, the isle, monastery were pillaged by viking invaders.
Walk around the beautifully kept Nunnery and Abbey cloisters. Visit the Abbey church itself and you can feel the history washing over you.
---
The Lighthouse walk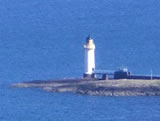 The Lighthouse Walk is a nice easy excursion from Tobermory Harbour. Head towards the Calmac ferry port and take the path heading up hill into the trees. You can just keep on this path for an hour or so, until you reach the lighthouse. On the way you should have fantastic views of Ardnamurchan. On the way back you could try walking back over the golf course for some lovely views down the Sound of Mull. Watch out for stray golf balls though.
---
The roads on Mull
The roads on Mull are mostly single track with passing spaces so keep your wits about you. This road goes from Dervaig to Torloisk and is not well travelled as most tourists take the coast road past Calgary Bay. You may see grass growing down the middle of some roads. The waterfall and views over Ulva make this route worth taking once in a while. Getting used to driving on single track roads can take a while but just keep a note of where the last passing place was and slow down whilst going round blind corners. Once you have the hang of it the roads are a lot of fun, hence the Mull Rally which takes place on public roads over a weekend in October.
---
Fishing on Mull – Loch Frisa
Going a little further afield from Tobermory, about a 20 minute drive from Tigh-na-acha on the Dervaig Road. This loch is the largest and deepest freshwater loch on Mull being 8km by 800m and 60m deep. Brown Trout of 5lb+, Salmon average 6lb and Sea Trout 2lb can be taken from the loch and the River Aros which flows from Loch Frisa.
Permits from £4 per day available from Tackle & Books in Tobermory – 01688 302336 or info@tackleandbooks.co.uk
---
Fishing on Mull – Mishnish Lochs
A 10 minute drive from Tigh-na-acha. Sitting above Tobermory on the Dervaig Road, these three connected lochs are stocked with 4″ Brown Trout every two years. We use size 10 Claret and 'Teal and Green' flies and have caught 4lb fish, but also hear that Butcher and Grouse work well in size 12 too. Fishing from the bank and from a boat is available.
The season is from 1st April through to the 31st September.
All details including permits and boat hire available from Browns in Tobermory – 01688 302020.
---