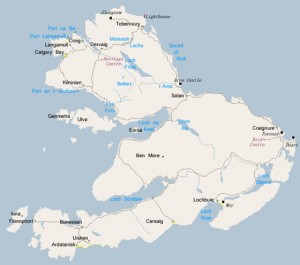 The Island of Mull is the second largest island in the Inner Hebrides and only a 15 minute car ferry journey from the Scottish mainland.
Either travel from Localine to Fishnish (15 minutes) or Oban to Craignure (40 minutes).
Both routes are managed by Caledonian MacBrayne and bookable online.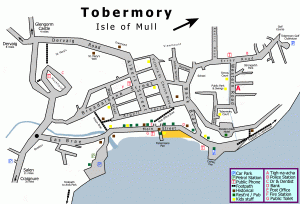 Tobermory is located in the North West of the Isle of Mull, a 30-40 minute car journey after disembarking at Craignure. Many of the roads on Mull are single track with passing places so please be courteous to on-coming traffic, as well as watching behind and allowing faster drivers past.
Although we do provide hard copies of these maps in the bungalow, you can look over these in advance of your holiday at your leisure.
Driving: If you are driving from anywhere south of Fort William you will probably wish to head towards Oban to get the Oban to Craignure ferry. The alternative if you have a bit more time, is the Lochaline to Fishnish ferry which is quite a long drive winding around numerous, though breathtaking mountains, glacial valleys and lochs.
Once you have reached Craignure, turn right onto the main road and head towards Salen / Dervaig / Tobermory, the journey on the Mull side should take 30-40 minutes.
The address for your GPS / Mobile phone map is: 8 Western Rd, PA75 6RA. Just putting the postcode in gets you close, but it is not exact. If you use What3words.com, heaven.sound.travels is a block on Tigh-Na-Acha – Tigh-Na-Acha on What3Words.
Train: There is a regular train service from Glasgow Queen Street to Oban which follows the shoreline of much of Loch Lomond and provides some lovely views.
Coach: You can catch a coach from Glasgow Buchanan Street Bus Station to Oban. This is a regular service run by Citylink, you can see their website for more details. Once on Mull please see the Public Transport on Mull section for more details.
Public Transport on Mull: Once you get to either Craignure or Fishnish ferry ports there is a reasonably regular bus service to Tobermory. Look for bus 95/495 and buy your tickets on the bus itself, at the time of writing the adult fare from Craignure to Tobermory is £7. Please check the bus timetable because the bus may not meet every ferry. Tobermory High School is the closest bus stop to Tigh-na-acha, followed by Victoria Street, but so few buses stop there you will likely need to go to Ledaig car park and make you way along the harbour, up Back Brae, turning back on yourselves past the Western Isles Hotel and up Western Road to Tigh-na-acha.
Taxis: Taxis are not widespread on Mull but here are some numbers which were current at the time of writing: 01688 302204, 07899 723273, 07760 426351 and 07493 886237.