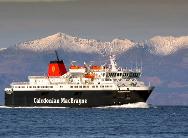 The Scottish government are subsidising travel to Mull with their RET scheme.
The cost of travel for islanders to the mainland was getting out of hand and also affecting the tourism trade, making people holidaying think twice. The RET scheme subsidises everyone's ferry fares drastically. By our estimate the discount is around 60% for foot passengers and vehicles, which you will hopefully agree is pretty significant. The best thing is you don't have to jump through any hoops to take advantage of this, the travel prices on the CalMac site already include the RET subsidy.
Check the Mull fares on https://www.calmac.co.uk/ret/about, with Oban / Craignure probably being the route most visitors to Tigh-na-acha will want to take.
Thank to the Scottish government for this gesture, it has made everyone on the islands a bit happier, though consider booking your ferry a bit earlier than normal because they may be a bit busier.